Application
Shoes Ross Flexing Tester is used for flexing test at a 90°angle of rubber products, sole materials, PU, etc. by subjecting specifically prepared specimens to repeated bend flexing. The damage and cracking condition is then observed.
Principle
The sample is repeatedly subjected to deflection at a certain angle and a certain degree of frequency to examine the degree of damage and cracking.
Features
1. Be able to test 0~12pcs specimens;
2. Counter with LCD display;
3. 90°bending angle.
Technical parameters
| | |
| --- | --- |
| Specimen No. | 6 groups (12pcs) |
| Flexing angle | 90° |
| Flexing speed | 60~100c.p.m (adjustable) |
| Counter | LCD, 0~999,999 |
| Dimensions | 58 cm × 60 cm × 32 cm |
| Weight | approx. 58kg |
| Power supply | 220V, 50/60Hz single phase; 110V, 60Hz,single phase (as required) |
Testing standards
ASTM-D1052 SATRA TM60 ISO-5423
Please review video of the Ross Flexing Tester operation as below link:
https://youtu.be/hdrDmVXM57w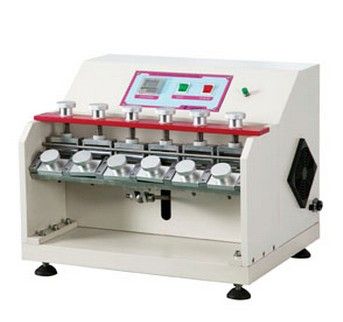 What is Ross Flex?
Description. Ross Flex Tester is designed to determine the resistance of vulcanized or synthetic elastomers to cut growth. The system does so under continuously bend flexing in 90°. This digital system has a memory function and is suitable for PU, PVC and TPR foams.
What is a Flex Tester?
Flex Tester is to test the resistance to folding of flexible materials, such as rubber, leather, synthetic fabrics, films, etc.