ISO8124 Slope Stability Tester
Product introduction
Stability of activity toys with a free height of fall of 600 mm or less
Load the toy in the most onerous position with a mass of 50 kg+/-0,5 kg on its standing or sitting surface for
5 min.
For toys labelled as not suitable for children 36 months and over, load the toy with a mass of 25 kg+/-0,2 kg.
Technical parameters
Place the toy on a 10°+/-1°slope in the most onerous position with respect to stability.
Where the toy is intended to bear the mass of more than one child at a time, load the toy with appropriate
masses (25 kg or 50 kg) to represent each child in the most onerous combination of positions that the children
may sit or stand.
Observe whether the toy tips over
Slop Angel:
10°+/- 1°
Load: 50 kg +/-0,5 kg, 25 kg+/-0,2 kg.
Testing Standards
EN71-1,ISO8124-1
NOTE: This Tester is in stock.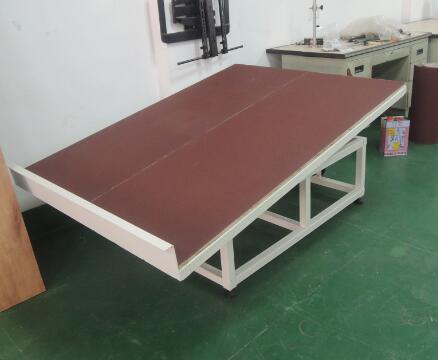 How do you know the slope is stable or unstable?
A slope can be globally stable if the safety factor, computed along any potential sliding surface running from the top of the slope to its toe, is always larger than 1. If the forces available to resist movement are greater than the forces driving movement, the slope is considered stable.
What is slope stability test?
Slope stability analysis is a static or dynamic, analytical or empirical method to evaluate the stability of earth and rock-fill dams, embankments, excavated slopes, and natural slopes in soil and rock. Slope stability refers to the condition of inclined soil or rock slopes to withstand or undergo movement.