Application of Surface Flammability Tester
The surface flammability Tester commonly used in the examination down or the superficial knowledge fabric's flammability, the flame spreads fast in the fabric surface, but the fabric Kieb structure is incombustible.
Technical parameters of Surface Flammability Tester
| | |
| --- | --- |
| Nozzle movement speed | 150 millimeters/second ±5 millimeter/seconds (bidirectional), the nozzle moves |
| The distance | ≥300 millimeter |
| May test the fabric plush altitude | 0-70mm; Flame altitude: 0-60mm continuously adjustable |
| Dimension | 600mm×400mm×370mm; |
| Weight | 20kg |
| Power supply | AC220V±10% 50Hz; 50W |
Testing Standards of Surface Flammability Tester
BS 4569, EN71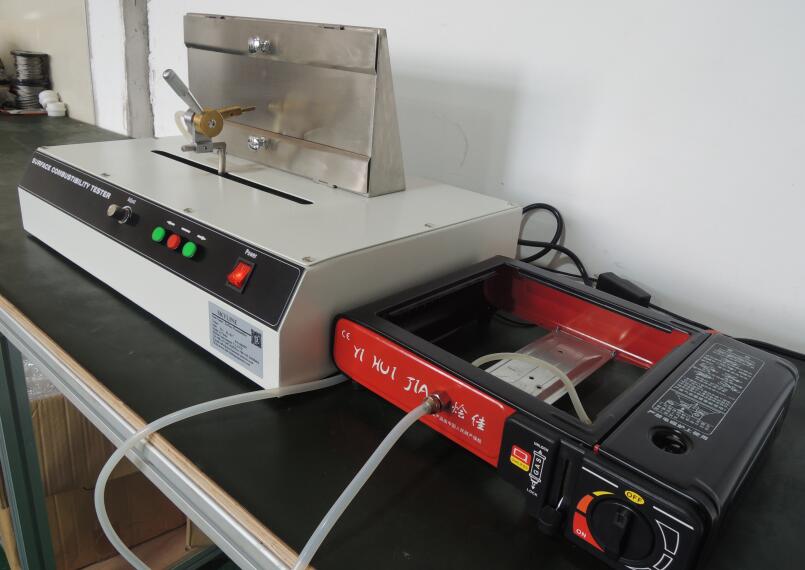 How do you test for flammability?
The materials are placed over a Bunsen burner either vertically or horizontally, depending on the specification. During a vertical flammability test, a material is observed for the length of time it burns after the igniting flame is removed, how much of the specimen burns and whether or not it drips flaming particles.
What is the purpose of flammability test?
Flammability testing determines how easily a material or finished product will ignite or burn when exposed to or used near fire or heat.