EN71-2 Comprehensive Flammability Tester for Testing Plush Toys
Product Introduction
En71 Toy Integrated Flammability Tester, to determine flammability resistance of finery or toy and children clothing, the toy flammability tester mainly for evaluating the burning speed and time of the following kinds of toys or children stuff.
Toys to be worn on the head, such as beards, wig and mask etc.
Toy disguise costumes and toys intended to be worn by a child in play, such as cowboy suits, nurse's outfits and long flowing capes etc.
Toys intended to be entered by a child, such as toy tents, puppet theatres, wigwams and play tunnels.
Soft filled toys (animals and dolls, etc.) with a piled or textile surface.
Flame height gauge: 20 mm, 40 mm
Standards
EN71-2:2011+A1:2014, ISO8124
Technical parameters
Ignition of the Time Range

0-99.9S Precision 0.1S

Continued burning time

0-999.9S

Ignition Fire Mouth Dimension

According to ISO6941 Standard

Dimensions

1030 x 600 x 900mm (LxWxH)

Weight

40kg

Standards

EN71-2 ISO8124-2

Accessories

U-Type Fixture pack of 1

45 degree Clamp pack of 1

T-Type Fixture pack of 1

Thread Clamp pack of 2

U-Type Fork pack of 2

Cotton Thread pack of 1

Hammer pack of 2

Tag line guide ring pack of 4

Pinchcock pack of 4

Air feed device pack of 1

Burner pack of 1
Why is flammability test important?
Why is flammability testing important? Flammability testing covers several different testing protocols and methods intended to measure a material's vulnerability, including its susceptibility to an ignition source, its propensity to combust, and the rate at which it will burn when ignited.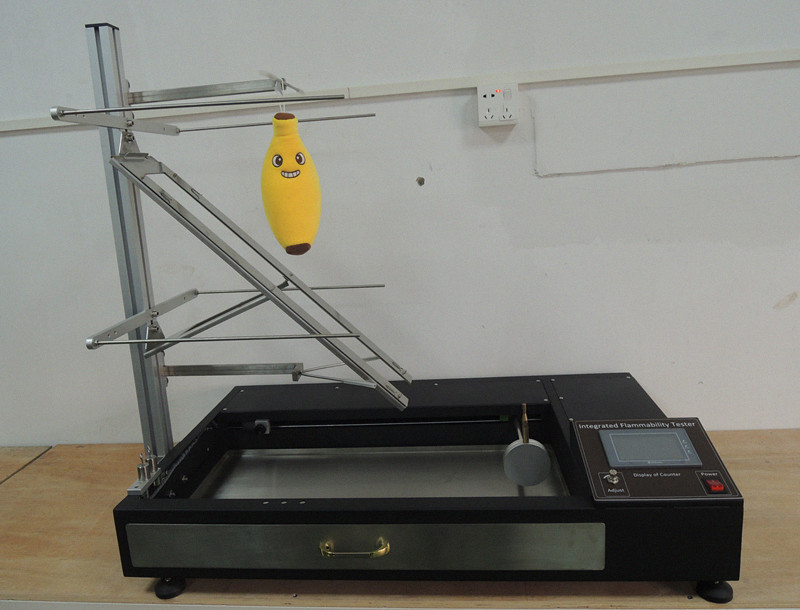 Why is flammability testing important?
In order to minimize the risk of fire or explosion, it is important to evaluate the flammability characteristics of the material to understand key characteristics such as the lower flammability limit, upper flammability limit, limiting oxygen concentration and deflagration index.
Is standard for flammability?
Scope: The flammability test is used to determine the relative rate of burning of self-supporting plastics. This test is mainly used for quality control, production control and material comparisons.