Automotive Wires Flammability Testing Equipment
Application
Rated voltage 50 V MMS or below ground vehicles with low voltage electrical system of primary cable flame retardant test, automotive wires.
This instrument is made of control panel, flammability chamber, Bunsen burner, Electromagnetic valve, High pressure ignition, Gas pipe, Pressure regulating valves,timer, Governing valve control wire
Standards
QC/T703-2005,SAE-J 1128-2005
Technical parameters
1)Dimension 500x650x400 mm
2)Burning gas using high purity propane gas or liquefied petroleum gas
3)Tested wires length:600mm(24 in), Sample clamping Angle:45 degree。
4)The bunsen burner has 13mm inlet hole and 10mm (3/8 in) nominal diameter, spray fire pipe outer flame diameter is 100mm (4in), inner flame is 50 mm(1/2in),temperature of inner flame as least 900 degree celsius.
5)The Bunsen burner flame should be put in the bottom of the samples and perpendicular to the axis of the sample. The tip of the inner flame role should be in the midpoint of the sample
6)Automatic ignition: flame burn the sample continue 15 seconds and be off automatically.
7)After burning 15 seconds, will time the continued burning, complete the continued burning time until the continued burning crush out and put off the stop button.
8) Burning gas is not supplied with the tester; it should be supplied by customer.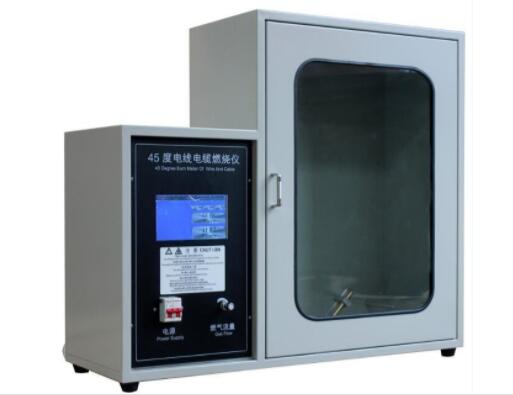 What type of wire is used in automotive?
Copper and aluminum are the most popular types of automotive wire materials. The difference between the two is that copper is more conductive, flexible, and unlikely to corrode than aluminum wire.
What is flammability test?
Flammability testing determines how easily a material or finished product will ignite or burn when close to fire or heat. It is therefore extremely important for maintaining safety around products used in residential, commercial and industrial environments.